The realm of brothel porn is a popular niche for those who revel in the aesthetic of hookers, working girls, and women of the night. Sleazy, controversial, and provocative in nature, many porn producers tend to steer clear of it.
But not in the Czech Republic. This Central European country known for its phenomenal beer, stunning women, and the enormous porn industry is constantly expanding its range of domestic smut.
" I believe that sex is one of the most beautiful, natural, wholesome things that money can buy. "

– Steve Martin- Born Standing Up
Czech brothel porn is the latest addition to the country's sleazy portfolio. But in true bohemian fashion, there are no half measures. This whore house smut is regarded as some of the best Euro porn produced in recent years.
We celebrate the aesthetic of whores, sleaze and legal prostitution. So a sordid guide to provocative sex filmed in the sex clubs and red-light districts of Prague was long overdue.
Today, we're going to virtually traverse the sticky floors and dodge used condoms as we explore the provocatively sleazy world of Czech brothels. Welcome to the whorehouse!
Is Czech brothel porn real?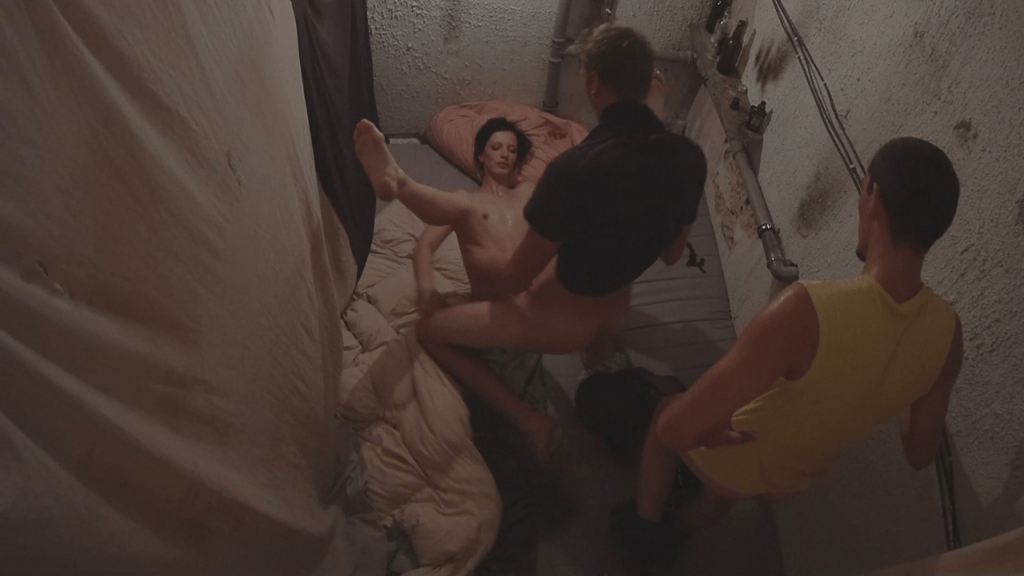 Before we get started, many of you will be asking: Is this smut filmed inside actual Czech brothels? In short, the answer is no. The open minded-Czechs have legalized prostitution. However, organized prostitution through brothels, prostitution rings, pimps, etc. is illegal.
So, the scenes in the various kinksters producing Czech brothel porn are almost exclusively filmed in studios. Whilst it might be a bummer for those of you who love authenticity, there is a silver lining.
These porn studios have been carefully designed to exaggerate some of the sleaziest aspects of whorehouses around the world. Some of them are so realistic looking, you can almost smell the scent of raw sex through the screen.
So whilst you may have to forsake reality, the rewards are fruitful. Perfect camera angles, ultra 4K high definition, and incredible sleazy sex sounds. Brothel porn has never looked so good!
Now, let me show you just what I mean…
5
This salacious Czech whore house porn isn't for the faint hearted
To get started, we head to a rural farmhouse that most god-fearing locals would steer clear of. Inside, is an incestuous family of immoral rednecks fictionally portrayed in the Perverse Family series.
The mom of the family is a ravenous whore who fucks anything with a cock, the daughters are sex-addicted squirters who follow in their mother's footsteps, and their live-in auntie is a professional prostitute who uses the home as a Czech whore house.
It's already in the name, but just to remind you: This is some perverse porn! It's not for the faint-hearted. But for those who can handle it, there's a range of aesthetic treats in store.
One of my favourite scenes features Britany Bardot as the whore auntie. Laying in bed and counting her day's earnings, she's surrounded by the tools of the trade: Used condoms, spunk stained tissues, and a small river of cum flowing from her pussy.
Well suited for those who love brothel porn with a horror twist, Perverse Family is some seriously well-produced pornography. Through our link, it's also as cheap as the whores it portrays and costs as little as $0.56 a day to enjoy!
4
This Prague sex house is every man's fantasy
The Czech's certainly have a big appetite for sex. So much so, that it's one of the few places on earth where brothel workers get pro-active on slow days and hit the streets to hunt for red-blooded men!
Well, at least that's what the storyline of Czech Harem often tells us! This incredible Czech brothel porn series centres around one random man picked up off the street and let loose in a literal harem of stunning women all vying to show him their dick game.
Honestly, this smut is a visual overload. Watching 30, 40, and sometimes 50+ women surround a lone male or a small group of guys in an intensely outnumbered orgy is unique in the world of porn.
From 25 teen sluts are gagging to ride the finite supply of cock in the room to a lone man battling his way through a mature brothel of middle-aged whores, this Czech brothel porn is truly a sight to behold.
Despite the sheer costs involved in recruiting up to 50+ women for a shoot, this premium porn series is shockingly cheap to subscribe to. Through our link, you can get it for under $0.60 a day alongside free access to all other whorehouse porn channels in this guide.
3
This underground Czech sex club is chillingly sleazy
If the wickedness of the Perverse Family series is your kind of smut, then you'll like what's up next. If you're faint-hearted, look away now! Introducing you to the sleaziest underground Czech sex club ever!
Known as "The Dungeon", this porn series aims to replicate a cheap brothel of the sleaziest kind. We're talking cheap whores lying on cum stained mattresses separated by cheap curtains here. It's not classy, but it is gloriously taboo!
If you're not into sharing the grunts and moans of cheap sex with sleazy punters a few feet away from you, then this place might not be for you.
Vodka-fuelled paid sex is sweaty, cum-splattered, and decadent in the best ways possible. An iconic piece of Czech brothel smut and a must-see for lovers of the horror porn genre.
To truly appreciate this X-rated work of art and the work that has gone into creating this lewd Czech sex club, it needs to be seen in 4K. For a limited time only, you can descend into this salacious smut for under $0.60 a day via our link.
2
Mirek loves cruising Prague's red light district
Whilst downtown of the Czech capital is known for its overpriced strip bars and clip joints, any true monger knows the real Prague red light district lies outside the city. Where? In its sleazy truck stops, of course!
The protagonist of our next piece of smut is called Mirek. In CzechBitch, this middle-aged dude with the sex drive of twenty year old has made a serious hobby out of cruising the truck stops of Prague in search of streetwalkers he can pay for sex in his car.
Luckily for us, Mirek has cameras fitted around his vehicle meaning lucky viewers can watch as he negotiates with a range of Czech whores before kicking off a range of salacious sex sessions in the back of his car.
From mature moms with huge tits working as hookers to teen sluts looking to earn cash for the weekend, Mirek doesn't discriminate when he peruses the Prague red light district.
In fact, he sometimes combines both tastes together. In one scene, he found a mom and daughter both working as truck stop hookers. And yes, he fucked them both at the same time.
For those of you who like the realm of risky sex, then you'll be pleased to hear that Mirek often pays extra to go bareback with these street hookers. This is also one of the few porn series that is largely real and not staged.
You can virtually join Mirek in his sleazy escapades over at CzechBitch, just be careful which seat you choose. For the work he puts in, his porn channel is a bargain and premium porn subscribers can get involved for under $0.65 a day!
1
The legendary Czech gloryhole brothel
When it comes to the best European whore house porn, there is none that can compare to the Czech glory hole brothel. It's centred around a fictional knocking shop where the identities of the women are hidden from the punters through the use of Gloryholes.
But these are no ordinary Gloryholes. As well as the conventional type, there are unique versions that leave a woman's pussy or all exposed whilst her upper body is hidden inside a booth.
Horny punters flock in throughout the day, pay their entry fee, and indulge in the literal buffet of wet pussies, tight assholes, and wanting mouths. It's pleasure on tap, provided you pay for it.
Of course, the entry price only gets you a limited time. Naturally, the men are keen to get as much pussy as they can. This leads to a ferocious fucking frenzy as lines of men form to fuck anonymous pussy.
The walls of this brothel ring with cries of pleasure as cocks pound the holes of the working girls. Their photo can be seen by the men before they put their cock in. Ranging from teens and MILFs to mature whores, there is a pussy for all tastes.
Just a few minutes in and the floor of the Gloryhole brothel soon transforms into a quagmire of pussy squirt, dripping spunk, and used condoms. This is, without doubt, some of the best Czech brothel porn you'll ever witness.
To get lost in the absolute filth of the glory hole brothel, you can sign up to their regularly updated site for as little as $0.56 a day and gain access to over 40,000 minutes of premium porn!
A summary of the virtual whorehouse
In summary, the niche of Czech brothel porn is naturally not to everybody's tastes. But whilst some porno fans like to indulge in clean, sensual smut, other's prefer the far seedier and sordid end of the spectrum.
The quality of this Euro porn niche is simply phenomenal and the amount of creativity and painstaking work that has gone into it is clearly visible. Once again, the Czech Republic defends its title as one of the continents leading porn producers.
Related European whore articles
Disclaimer: This guide to the best Czech whore house porn may contain affiliate links. When you use these links to purchase their services, I can earn a commission. All commissions go towards maintaining my site and providing you with further content. Something I am very grateful for if you do purchase, my thanks in advance if you do.
Also, by my use of words like 'whore' and 'slut' etc., I mean nothing derogatory, but rather as a compliment. I view whores as women who have shaken off the chains of sexual repression and embrace their sexuality to its full extend.
As Taylor Jenkins Reid said about the word being used in a derogatory way: "The word whore is something ignorant people throw around when they have nothing else."