Hey, Catherine Duffy of Whoreuro here!
If you're a regular reader of mine, you'll know that I regularly travel around the globe with my full-time job, and along the way, I seek out some of the sleaziest corners of sin that this world has to offer.
Recently, I found myself transferring through the Mediterranean island of Cyprus, where, alongside an impromptu spit roast between the two Greek cocks of some local guys, I found some unlikely sex gift souvenirs to add to my Goon Cave.
In this article, I'm going to introduce you to some of the highlights that came home with me in my luggage and the unique role they all play in fuelling my porn addiction even further. All in all, they cost less than €15, but their value towards my brainless Gooning sessions is priceless!
BBC Bottle Opener
As you all no doubt know at this point, I'm a fully-fledged member of the BNWO and don't waste any opportunity to drop to my knees or spread my thighs in the service of big black cocks.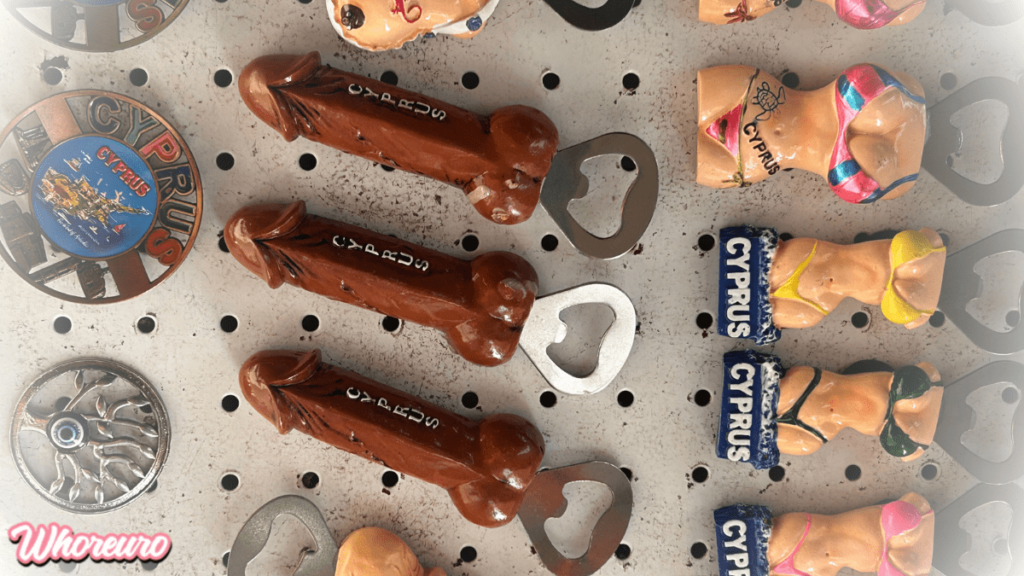 So when I locked eyes with the array of BBC bottle openers on sale in Cyprus, I was determined to buy as many as I could.
After all, a lot of my BBC porn sessions and interracial fuck parties involve a lot of casual alcohol consumption, so these bottle openers were an ideal accessory.
It's a fun conversation starter, but they're also an ideal accompaniment for a beer drinker because, when you see that alluring white foam pour out after cracking open a bottle with an erect black cock, you can't help but let your mind wander and allow your tastebuds to imagine the taste of divine black cum!
Pornstar Cigarette Lighter
Despite telling myself that I should quit more times than I can remember, I'm an avid smoker, and there are few better feelings than sucking on a cigarette while I gaze down upon a loyal Gooner sucking my perverse fluids from my cunt before stuffing his Goon Stick balls deep inside me.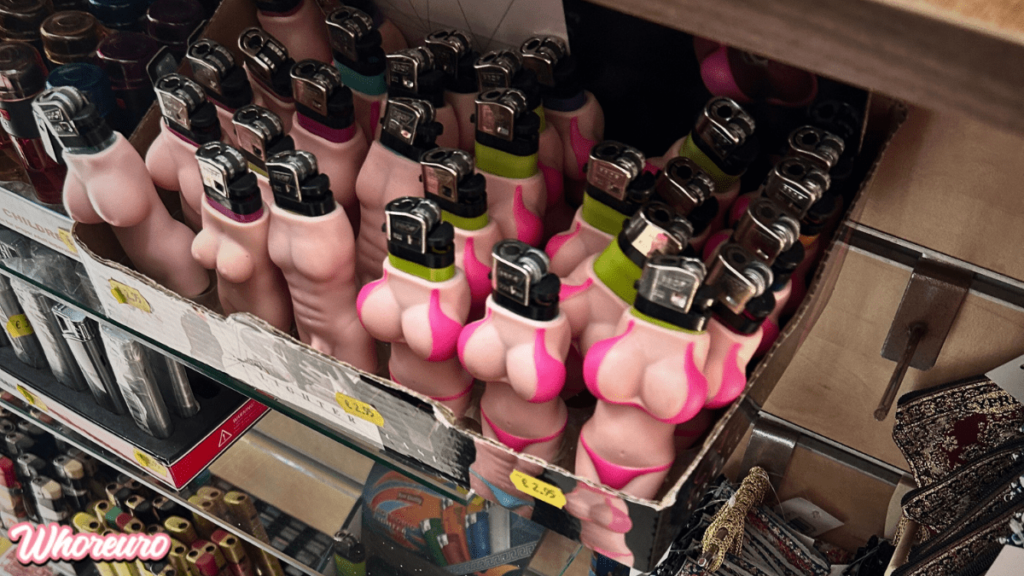 But alongside cigarettes, I also like a "smoke," if you know what I mean. I find it the perfect way to drift into a mind-melting Goon Session with even more intense orgasms than usual. That's why I felt my twat flutter when I spotted the array of erotic lighters for sale in Cyprus!
Not only was there an array of busty female lighters wrapped in Bimbo pink lingerie, but the store also had nude male lighters with their cocks exposed alongside topless female lighters with the kind of physique that looked light something from a porn movie.
Feeling the artificial tits and cocks in my hand as I spark up sure adds a new dimension to my smoking sex and, of course, my other "smoking" sex!
The Masturbating Bottle Opener
As much as I loved my BBC bottle opener, I couldn't help but diversify my collection with some of the other cock-shaped souvenirs that the store had for sale!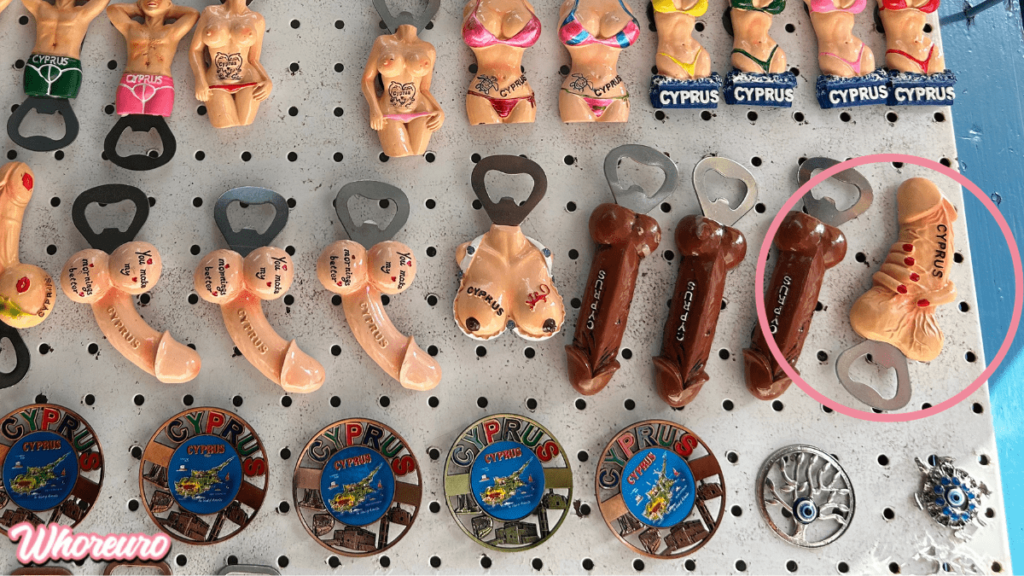 Among the others was a throbbing erection covered in red lipstick and another that featured a beautifully curved cock with a female's hand wrapped around its shaft in an intense milking session frozen in time.
The latter bottle opener provided an equally fitting way to open a bottle of beer and watch milky liquid flow out as though it was the hot sticky cum oozing from the cock that opened it!
Bimbo Shot Glass
Remember when I said that more than a few beers get guzzled during my Goon sessions? Well, beer isn't for everyone as it's pretty heavy and can impact their ability to fuck other Gooners and Goonettes attending the party.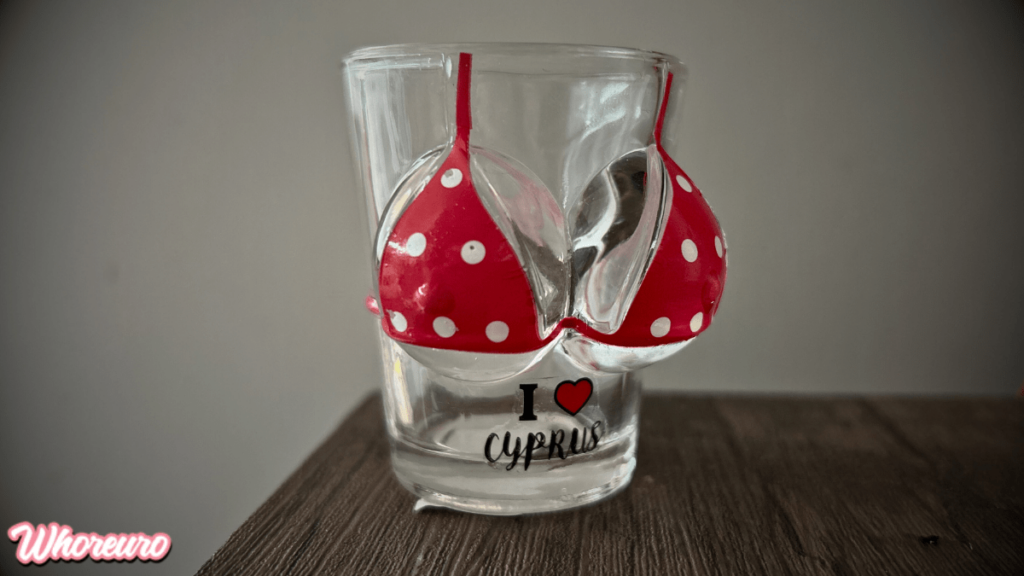 For these Pornosexuals, I always provide an ample array of spirits ranging from shots to whiskey, and they're a popular addition to any Gooning event and never fail to truly get the party started.
But fuck drinking out of a generic shot glass! Why should you when there are Bimbo-inspired shot glasses for sale in Cyprus? I fell in love with these as soon as I laid my perverted eyes upon them.
There are few better ways to sink into alcohol-fuelled depravity than sucking hard liquor from a shot glass shaped in the bust of a pink bikini-clad bimbo!
Even More Slutty Souvenirs!
The fun continued with this store's ever-surprising range of bottle openers. Aside from the throbbing cocks on offer, they also sold a range of slutty souvenirs in a variety of shapes!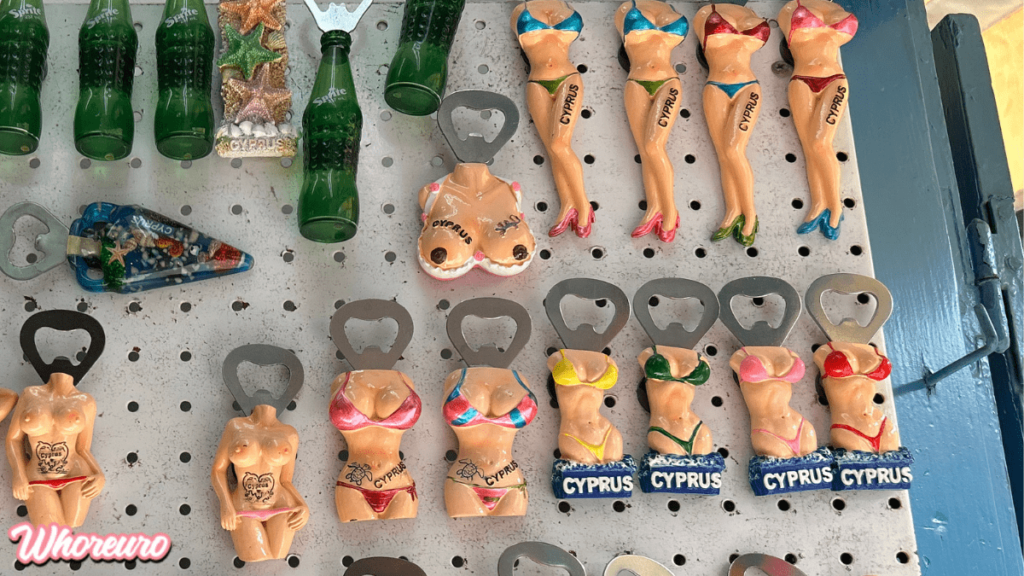 These bottle openers ranged from topless women with the map of Cyprus tattooed across their breedable stomachs while seductively pulling down their panties to welcome you between their slutty thighs!
There was also full-bodied souvenirs, too, complete with slutty pornstar heels and some magnets that solely focused on a fat pair of udders complete with black nipples. All of them offered yet another divine way for Pornosexuals to open their beverage!
These Sex Gift Souvenirs Might Be Tacky, But They're a Prime Example of How You Can Fit Porn Into Your Everyday Life!
Well, while I did predict that I'd be leaving the island of Cyprus with my holes leaking with cum (and they were), I didn't expect to have my luggage overflowing with a range of perverse souvenirs headed straight for pride of place in my Goon Cave!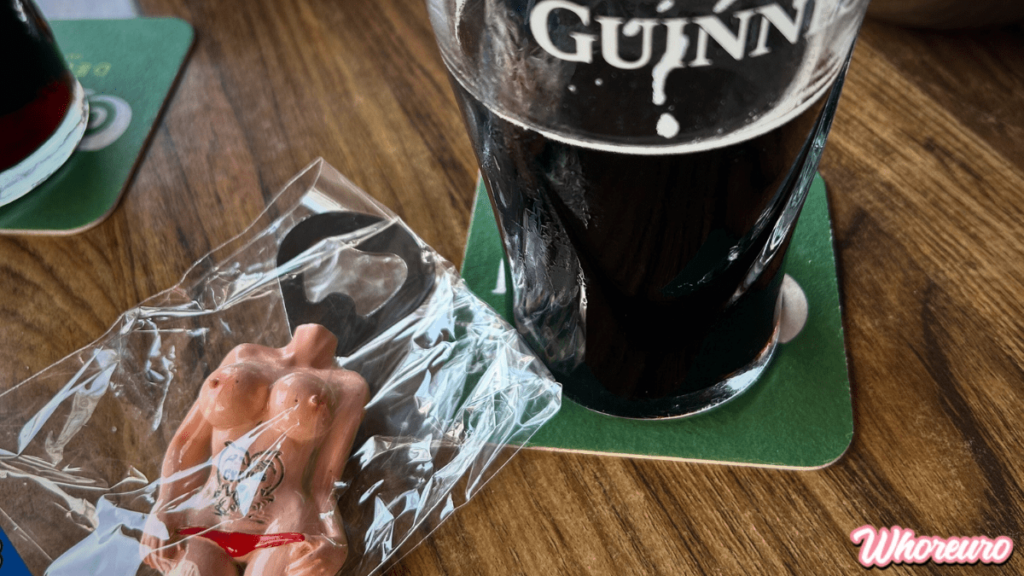 The middle-aged Cypriot woman in the store looked a little perplexed when she saw a well-dressed woman like me buying such sexually explicit souvenirs as they're usually reserved for stag/bachelor parties.
Little did she know that as well as handing them out to some of my most loyal Gooning friends, they'd also form a perverse array of accessories to some of the most debauched porn consumption the world has ever seen!
Hell, they might be tacky, but these sex souvenirs are a prime example of how even generic tourists can pick up stuff that will allow them to push the art of Porn and erotica into their daily lives.
So much so that even sparking a cigarette or opening a beer will trigger their inner lust and draw them closer to porn!
While these sex gift souvenirs might not be as wild as the creampie souvenir that ISG's Karl recently got from a Welsh gangbang, they're still badass!
Have you picked up any Porn-inspired souvenirs on your travels? Drop a comment below and let me and your fellow Pornosexuals know!